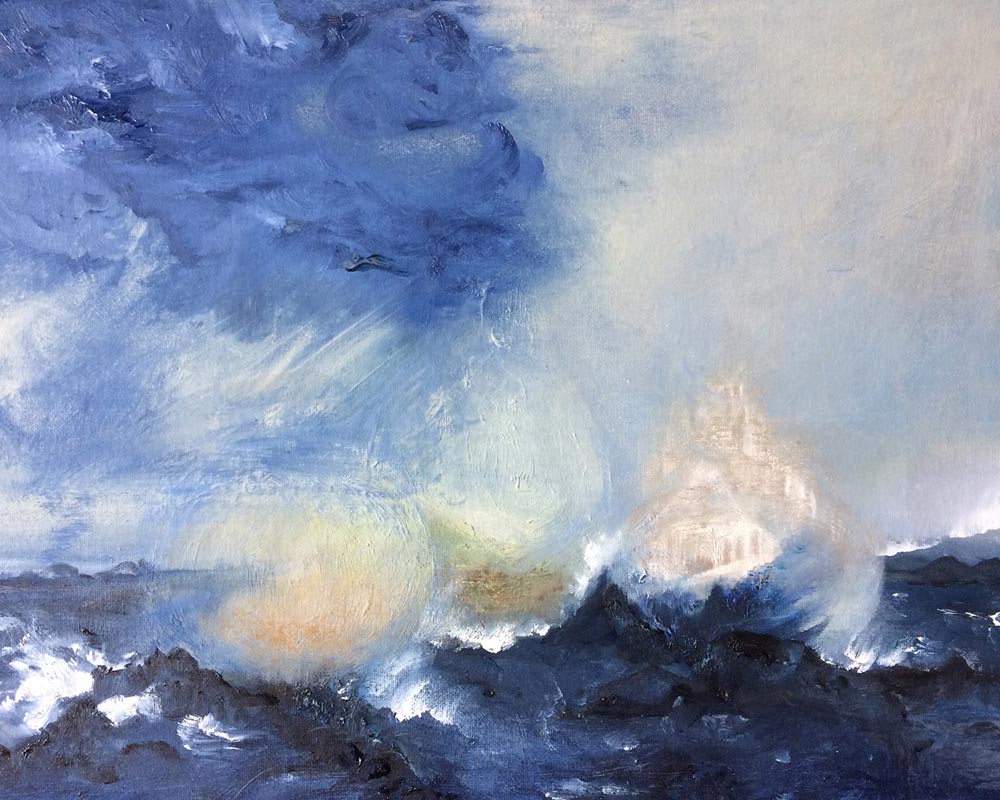 Naomi Cass Interview with Zoe Amor
NC: How long have you been working in the Castlemaine area, and what drew you here?
ZA: This winter I'll have been up here twenty years! I used to come up by train to visit mum who had a lovely place in Harcourt with an orchard, vegie patch, chooks and a view of the Mount. It was very peaceful and the big sky, fresh air and people reminded me of where I grew up at Mulberry Hill in Baxter, and the bush at Warrandyte and Dunmoochin.
After I finished Uni in Melbourne I wanted to pursue art full time away from the city, so I got work on an organic farm, enrolled in Tafe and learned the art of lost wax casting at the Garage Art Foundry. Here I met many artists, writers, teachers gardeners, filmmakers, dancers and all round good people. Right now I am more in love with this place than ever! Watching the seasonal changes in the garden, bush, skies and town is a real joy and I feel so fortunate to live here.
NC: Can you please describe where you work?
ZA: I work in a beautiful studio connected to the house that my artist partner Joel Sorensen and I built over this last year. Opening off the North facing walkway that joins the two workshops, the studio has different areas to work in and lots of wall space for paintings, drawings, prints, photos and sculpture. There's a big work – bench full of sculptural components in cardboard and wax next to shelves full of plaster and fibreglass moulds with collections of stuff I use in my work. There are two large drawing presses, bookshelves for the research and reference collection, chairs by the window and old chests and draws full of canvas offcuts, postcards, artefacts, rocks and minerals, shells, fossils, gumnuts, bark, butterfly chrysalis and shiny Christmas beetles. There's an easel with a canvas on it and a very special Swedish NIKE adjustable drawing desk found at Platform 5, which has my latest work on it. Stools and trolleys with drawing and paint boxes, brushes, cups, clips and glass palettes complete the set up.  The desk is for research, writing, consultancy and small sketchbook drawings and is littered with favourite artefacts and books such as: The Book of Symbols, Art of the Ancient Near & Middle east, The Tree of Life, William Morris by himself, Drawdown the most comprehensive plan ever proposed to reverse global warming, latest Dumbo Feather magazine, Kate Grenville's Writing Book etc.
NC: What can you see out of your window?
Facing South is a massive double glazed sliding window door with a view through the She- Oaks over the dam to the gum trees, papyrus and bamboo on the other side. This is where the best light is for painting and drawing, bird watching and for the Rubber plant, Bromeliad, everlasting nasturtium and succulents that are my studio friends, to live.
NC: What special object is sitting on your bench at the moment?
A black and white image of the Nike of Samothrace in the Louvre – one of my favourite stone sculptures and a great source of inspiration and wonder. Could anything like this be made now?
NC: Do you structure your day, or not?
ZA: Yes, mostly I keep regular hours. After a cup of tea and a walk in the morning I go to the studio, warm up and take a look at the work I've left on the bench, easel or drawing board – everything is set up and ready to go to which is very inviting. There's a break for lunch and coffee with knock off around 5 or sometimes earlier if the kids need me to be present.
NC: What Music are you listening to when you work?
ZA: In the morning its ABC Classic FM but often I share Joel's terrific playlists on the Bose with favourites being the Menahan Street Band, Bach and Mozart, the Bryan Ferry Orchestra, Little Dragon, Nina Simone and Curtis Mayfield. But mostly I like listening to the quiet and the wind through the She-Oaks.
NC: Is your practice solitary or do you work with others?
ZA: I have been known to work with others! But mostly I love closing the door, and being alone with everything to do and no one to answer to but myself. However, the ongoing artistic dialogues and sharing of ideas and influences with Joel, my dad and others is a very important part of my art work and life.
NC: Is there a ritual you have in closing down your studio for the day?
ZA: At the end of the day I always try to find that rounding – off place in the work that enables me to easily come back in and pick up from where I left off, even if that's days or weeks later.  Then there are tools, brushes and palettes to clean, lights and burners to turn off and the doors close.
NC: Are you disciplined about finishing up or do you take your work with you into the evening?
ZA: I do tend to take the work with me in terms of ongoing discussions with Joel – I might tell him a bit about what I'm working on and the thought processes that have been leading it and then I might show him the works in progress. It feels good to be able to share some of that internal dialogue and receive feedback or confirmation of directions or questions that arise.
NC: Can our readers view your work in any way at the moment?
ZA: Currently there are selected works on Instagram, while I do some work updating my website at www.zoeamor.com. It still has the best overview of my major sculptural work, exhibitions and commissions.

Mark Dober Interview with Zoe Amor
A favourite work of mine is by Castlemaine artist Zoe Amor, whose charcoal drawing, Architecture of a Dream – The Gift 1 and II, strikes me as both mysterious and sublime. Is this a world in creation or destruction; a world in ferment, perhaps unravelling?
Inquiring about the work, I presented Amor with these questions:
Mark: How did you make your drawing?
Zoe: There was a dream image in my mind of a huge giant coming out of the sea to a secluded bay where he placed a gift for me behind the rocks, just out of view.
I made small sketches in pen and pencil, studied giant postures, attempted a few more drawings, got really frustrated, put them away in a drawer for a few months and then bought really nice big smooth paper and left it set up on the drawing desk. One day I leapt up from the stool with an inscribing tool and a piece of sharp charcoal from the fire and worked hard over the surface  with  many  lines  and  arcs.  Then  I  used  thick  and  thin  willow charcoal to draw what you see using my fingers, scrunched masking tape, rag and a kneadable eraser to put the light back in. Though I wasn't brave enough to keep the beautiful dark giant in I, drawing II seemed to make itself.
Mark: Your drawing reminds me of Turner's painting, 'Ulysses deriding Polyphemus' (1829). What art context would you apply to your work?
Zoe: Over twenty years ago I began to document these epic dreams that opened up my imagination and creative consciousness to an understanding that these realms can be shared across space and time and are transmutable. The dreams provide the raw material for mysterious, intimate experiences to be transmuted into drawings, narratives and other mediums. The many giants of the art world since the beginning of recorded human creativity have enriched my understanding of what a compelling idea and artwork can be. Their philosophy and work inspire me to persevere with methods of observation and techniques that work to liberate my artistic self and give her free reign over the subject matter.